Roll over image to zoom in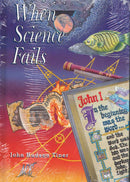 Description
For use with Literature PACE 90 (Basic Literature 8)
From the files of scientific research, meet a school teacher whose garden opened the study of genetics to the scientific community; see how mold--a "useless" folk remedy--became the world's best weapon in fighting infection; and learn how a musician discovered a planet with a homemade telescope!
When Science Fails, John Hudson Tiner uses these and other scientific accounts to demonstrate the fallibility of the "scientific methos." Directly attacked are the notions that:
-Science has all the answers.
-Science can prove the Bible false. 
Documented cases of major scientific discoveries in the modern era present powerful testimony to the validity of Scripture and the frailty of human reason.

For the reader committed to truth, When Science Fails dynamically puts forth the challenge to confront mainstream science in the true spirit of investigation while upholding Biblical fact as the foundation for all scientific exploration.
Click here for more literature books.
Payment & Security
Your payment information is processed securely. We do not store credit card details nor have access to your credit card information.