Roll over image to zoom in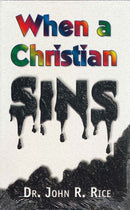 Description
Becoming a Christian does not nullify the old nature but, rather, introduces a new nature which wars against it. Sometimes the old nature overpowers the new--and a Christian sins. Some Christians even become slaves to the old nature and therefore live in constant defeat. When a Christian Sins presents to the defeated Christian the way to forgiveness and cleansing, the way to victory over sin and the avenue to power in Christian living.

John R. Rice clearly explains that all Christians do sin; only God's grace can keep them. He discusses the effects of sin in a believer's life and the results of a life out of fellowship with God. He shows how he lives on earth. Topics such as what sin is, man's position as a Christian and God's responsibility to His children are given thorough consideration.

An honest, straightforward approach, this book clearly shows the danger of sin and the need for continual cleansing.
Payment & Security
Your payment information is processed securely. We do not store credit card details nor have access to your credit card information.