Roll over image to zoom in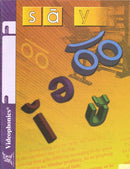 Description
VIDEOPHONICS 8
Videophonics teaches the basics of learning to read, using a phonics approach to reading. The course is divided into 60 lessons.
PACE 8 (Lessons 41-44)
 Listen to and say sound of 'WH' blend
Recognise shape of WH blend Blend WH blend with learned sounds
Read words, sight words, and sentences
Write words Identify picture by selecting correct word
Choose correct word to complete sentences
Payment & Security
Your payment information is processed securely. We do not store credit card details nor have access to your credit card information.