Roll over image to zoom in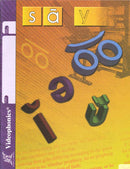 Description
VIDEOPHONICS 4
Videophonics teaches the basics of learning to read, using a phonics approach to reading. The course is divided into 60 lessons.
PACE 4 (Lessons 22-26)
Listen to and say sound of long 'I'
Recognise the long I sound in pictures, words, and sentences
Recognise shape and write Ii Blend long I sound with learned sounds
Read words, sight words, and sentences
Payment & Security
Your payment information is processed securely. We do not store credit card details nor have access to your credit card information.