Roll over image to zoom in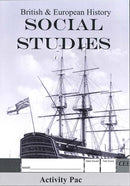 Description
This PACE contains the following:
Character objective: Loyal
Scripture: John 15:13
Palmerston and the Crimean War

Overview
Palmerston as Foreign Secretary
The Revolutions of 1848
The Second French Republic and Relations with Italy and Spain
The 'Don Pacifico' Incident
The Dismissal of Palmerston
The Events Leading up to the Crimean War
The Main Events of the Crimean War

Palmerston and Russell. 1856-68


Overview
The Indian Mutiny
The Opium War
The Conspiracy to Murder Bill
Derby's Second Ministry
The Unification of Italy
The American Civil War
The Schleswig-Holstein Question o Palmerston's Misunderstanding of Bismark
Palmerston' Character
Events after Palmerston's Death

Gladstone and Disraeli


Overview
William Ewart Gladstone
Benjamin Disraeli
The Two men: A Contrast o Gladstone's First Ministry
Disraeli's Ministry
Gladstone's Second Ministry
Lord Salisbury's First Ministry
Gladstone's Third Ministry
Payment & Security
Your payment information is processed securely. We do not store credit card details nor have access to your credit card information.