Roll over image to zoom in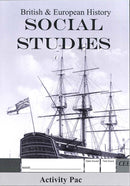 Description
This PACE contains the following:
Character objective: Fearless
Scripture: II Timothy 1:7

The Wesleyan Revival and its Influence


Overview
England before the Wesleys
The Churches
The Wesleys

Oxford
Conversion
The Open Air
Organisation

The Results of the Wesleys' Work

The Life of John Newton


Overview
John Newton's Early Life
Conversion
Anglican Minister
Abolitionist

The Evangelicals and Social Reform in the early Nineteen Century


Overview
The Slave Trade Abolished
The Problems of Abolition
The Emancipation Act of 1833
Early Factory Conditions
Apprentices'
The Seventh Earl of Shaftesbury
The Factory Act, 1833 I. The Mines Act, 1842 o Climbing Boys' K. Education before 1833
Voluntary Societies
The First Education Act, 1833
The Poor Law before the Industrial Revolution o Eighteenth Century Conditions
The Poor Law Act, 1834

The Influence of the Christian Brethren on Evangelicalism

Overview
The Origins of the Brethren
"Open' and 'Exclusive' Brethren
John Nelson Darby
The Influence of Darby and the Brethren on the Evangelical Movement Darby's Later Influence
Payment & Security
Your payment information is processed securely. We do not store credit card details nor have access to your credit card information.