Roll over image to zoom in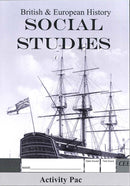 Description
This PACE contains the following:
Character objective:
Discreet
Scripture:
Psalm 112:5
William Wilberforce and the Abolition of the Slave Trade


Overview
Early Life
Early Parliamentary Career
Conversion
The Abolition of the Slave Trade

InitialDecision
EarlyParliamentaryAction
War with France
The Final Phase of the Campaign

Wilberforce's Other Activities

Political and Social Reform
Wilberforce's Christianity
Moral Reform

Wilberforce's Later Years

The Napoleonic War - Part 1


Overview
The Outbreak of the Napoleonic War
Naval Warfare

The Trafalgar Campaign 1805

The Third Coalition
The Continental System
The Peace of Tilsit 1807

The Napoleonic War - Part 2


Overview
The Peninsula War
The Moscow campaign 1812
Napoleon Defeated
The Battle of Waterloo 1815
The End of Napoleon
The Reasons for Napoleon's Fall

British Sea Power
National Resistance to Napoleon

The Results of the Napoleonic War


Overview
The Problems of Treaty Making

The Rise of Democracy
The Work of Napoleon
How to Solve the Problem?

Lord Castlereagh
The Treaty of Vienna 1815
The Holy Alliance
Castlereagh's Foreign Policy
Payment & Security
Your payment information is processed securely. We do not store credit card details nor have access to your credit card information.