Roll over image to zoom in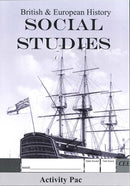 Description
This PACE contains the following:
Character objective: Deferent
Scripture: I Corinthians 10:33

William Pitt the Elder


Overview
The Seven Years War
The Early Political Career of William Pitt
William Pitt as War Minister

WarinIndia
The Campaign in Canada
The War at Sea

Pitt's Resignation
The Treaty of Paris

The Loss of the American Colonies


Overview
The Character and Policy of George I
John Wilkes and the Cause of 'Liberty'
The Causes of the War with the American Colonies

The Colonial System
Taxation
Disturbances in the Colonies
Who was to Blame for the War?

The Main Events of the War

Lexington to Saratoga
Saratoga to Yorktown
The War at Sea
The Treaty of Versailles

The Results of the War

William Pitt the Younger


Overview
The European Background
William Pitt and British Politics

The Fox-North Coalition
The'Mince-pie' that lasted Eighteen Years
Pittas Prime Minister
Pitt's Domestic Reforms
Imperial and Foreign Affairs
Payment & Security
Your payment information is processed securely. We do not store credit card details nor have access to your credit card information.