Roll over image to zoom in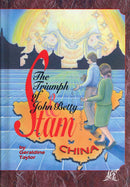 Description
The messenger spoke hurriedly in a hushed tone, "There is extreme danger. You must leave at once! The city has been attacked by Red forces."
Instead of leaving the Chinese city, however, John and Betty Stam gathered their servants together to pray about the matter. Suddenly their prayers were interrupted by a loud banging at the door. It was the communist forces who were armed with weapons and ready to shoot! The army quickly seized the missionaries along with their newborn baby and held them for ransom at the local communist headquarters.
Would their ransom be paid? Would they endure the torturous punishment for being a Christian, or would they renounce their faith? What would happen to little baby Helen?

Read the chilling account of the Stams' life in China in  The Triumph of John and Betty Stam. Experience their triumph through pain and communist forces and rejoice as many Chinese people accept Christ through the self-sacrifice of these Godly missionaries.
Payment & Security
Your payment information is processed securely. We do not store credit card details nor have access to your credit card information.