Roll over image to zoom in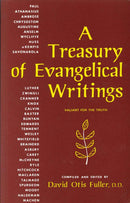 Description
In a day of inconsistency, compromise, and lack of conviction, you will be blessed and challenged as you read of men who were "valiant for the truth." This classic collection presents men of all ages who had much in common. Courage was theirs in abundance. God-given convictions were so firmly rooted in their hearts that neither persecution, banishment, torture, nor death could dislodge or destroy them. They were men whose fervent love for God, passionate service for Christ, and profound belief in the verbal inspiration of the Scriptures enabled them to stand firm against the powers of darkness.

You will be inspired as these giants of the faith -- Agustine, Wycliffe, Huss, Luther, Zwingli, Knox, Wesley, Brainerd, McCheyne, Spurgeon, Moody, and others -- live again through this treasury. A brief biographical sketch on each of these faithful servants begins each selection.
Let this collection lead you into some of the greatest statements ever given on our evangelical heritage. Your commitment will be strengthened with a renewed sense of confidence and joy in the everlasting Word.
THE AUTHORS...
DAVID OTIS FULLER, D.D. (1903-1988) was pastor of the Wealthy Street Baptist Church in Grand Rapids, Michigan for over 40 years. In addition to 'A Treasury of Evangelical Writing' (formerly published as 'Valiant for the Truth'), Dr. Fuller is known for his abridgments of a number of "classic" works. These include C.H. Spurgeon's, Sermon Notes, John Calvin's Institutes of the Christian Religion, and Confessions of Saint Augustine. Following an intensive investigation, Dr. Fuller has compiled and edited three books in defense of the Authorized Version of the Bible. They are, Which Bible?, True or False?, and Counterfeit or Genuine? Mark 16? John 8?
HENRY W. CORAY (1904-2002), author of the biographical sketches, is now semi-retired and living in La Selva Beach, California after pastoring the Orthodox Presbyterian Church in Glenside, Pennsylvania. He is the author of Son of Tears, a biography of Saint Augustine, and Woman at the Well.
Payment & Security
Your payment information is processed securely. We do not store credit card details nor have access to your credit card information.