Roll over image to zoom in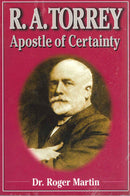 Description
Reuben Archer Torrey, a pastor, an educator, and an evangelist of international renown, was a giant of the Christian Faith.
His evangelistic meetings, which literally circled the globe, resulted in the conversion of tens of thousands of people. With his song leader, Charles M. Alexander, Torrey continued the great campaigns which had been begun by his friend D. L. Moody.
Torrey also had a fruitful ministry as a pastor. In pastorates at the Chicago Avenue Church (Moody Memorial) in Chicago and the Church of the Open Door in Los Angeles, he saw hundreds of conversions and additions on an annual basis. During his last year in Los Angeles, more than nine thousand people accepted Christ as Saviour.
This is truly a life worth studying. Dr. Roger Martin, a longtime professor at Temple Baptist Seminary in Chattanooga, Tennessee, has thoroughly researched the valuable information in this biography. With a B.A. in history, an M.A. in New Testament, and a Ph.D. in theology, Dr. Martin has delivered a scholarly but captivating volume that will challenge and inspire.
Payment & Security
Your payment information is processed securely. We do not store credit card details nor have access to your credit card information.