Roll over image to zoom in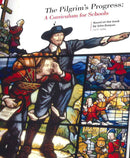 Description
A comprehensive guide for Lower, Middle, and Primary Schools based on the world-famous spiritual allegory by John Bunyan (1628-1688).
The Pilgrim's Progress: A Curriculum for Schools includes:
Brief biography of John Bunyan
Timeline of Bunyan's life alongside national events
Using The Pilgrim's Progress in schools - including assembly, worship, RE, Literacy, History, local History, Enrichment and Extension, and the Creative Curriculum
The Story Explained: ten detailed story sections with key characters and symbolism, related Bible verses and texts, Christian concepts and Bunyan's real-life inspiration
A suggested 10 week RE scheme of work for KS1, Lower and Upper KS2
Creative Curriculum Map
Glossary of Christian Concepts
Learning Outside the Classroom
Colour-coding and cross-referencing
Frieze for classroom display - a visual representation of the story, core Christian concepts plus timeline of Bunyan's life and national events
Payment & Security
Your payment information is processed securely. We do not store credit card details nor have access to your credit card information.