Roll over image to zoom in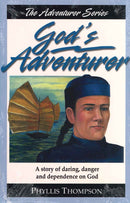 Description
For use with Literature PACE 86 (Basic Literature 8)
Hudson Taylor was still a teenager when God told him to go to China. Alone, broke and even critically ill, he hung on to that goal, and to God who was sending him.
But would God be enough?
Alone in China, Hudson had lots of chance to find out! There is plenty of danger, adventure and action in this true story of a man who dared to risk all on God.
Click here for more literature books.
Payment & Security
Your payment information is processed securely. We do not store credit card details nor have access to your credit card information.