Roll over image to zoom in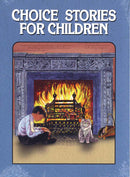 Description
For use with Literature PACE 47-50
Choice Stories for Children contains nearly forty stories written during the late 1800's. Every story has an important lesson designed to build good character. The stories were selected from four out of print books; Scrapbook Stories, Golden Grains vol. 1 and vol. 3 and Lost Jewels.
What Experts Say: 
"This is one of the best selections of old fashioned 'character building' stories I know. I have read and reread them from childhood." Dr. Raymond S. Moore, Authority on family and schools

What Parents Say:
"I have spent literally $1,000.00's on educational and character building materials for our son... and none have been as encouraging, nor as influential as your old time stories." Tracy Mandeville, A home school mother of four years
Click here for more literature books
Payment & Security
Your payment information is processed securely. We do not store credit card details nor have access to your credit card information.