Roll over image to zoom in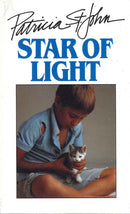 Description
For use with Literature PACE 59-60
Hamid rubbed the light from his eyes and looked again. He was not dreaming. It was his stepfather! The man watched Kinza as a snake might watch a baby rabbit at play, waiting its moment to strike. And for one breathless moment Hamid was sure that he would reach out and snatch her away.
Patricia St. John resides in England, where she is a missionary to the elderly.
Other books by Patricia St John:
Rainbow Garden
The Runaway
The Secret at Pheasant Cottage
The Secret of the Fourth Candle
The Tanglewoods' Secret
Three Go Searching
Treasures of the Snow
Where the River Begins
Click here for more literature books
Payment & Security
Your payment information is processed securely. We do not store credit card details nor have access to your credit card information.