Roll over image to zoom in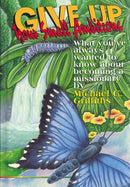 Description
Me? A Missionary?!
Many people think that missions is something for adults or people with no other job training.
The fact is God calls all kinds of people to accomplish His tasks. It is up to us to heed His call.
Give Up Your Small Ambitions explains all the details about being a missionary. Mr. Griffiths describes the qualifications and qualities of missionaries. He helps us see that what God requires is availability not just ability.
What about the cost of missions? Here, too, Mr. Griffiths gets down to business and tells us the essentials that are involved in a mission's ministry.
If you have ever felt God leading you into any type of missionary ministry, read this book! It gives the basics for starting a missionary career.

Payment & Security
Your payment information is processed securely. We do not store credit card details nor have access to your credit card information.