Roll over image to zoom in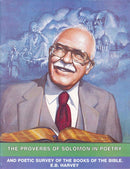 Description
Meet Edwin Bramwell "Bill" Harvey....
Born to godly parents, the Word of God has been as much a part of Bill Harvey's life through the years as waking and sleeping.
While a young man, he was challenged by Dr. Lehman Straus to read a chapter in Proverbs daily.

In December 1982, Bill Harvey wrote the Proverbs of Solomon in poetry for his devotional time. He has creatively limited each verse to one line of poetry, while establishing a beauty and intrigue unsurpassed in poetry. Since Proverbs is the fountain from which wisdom flows, it seems only natural for A.C.E. to make Dr. Harvey's superb work available to church-schools.
Included in this volume is his poetic survey of the Bible. His sixty-six four-line verses describe the contents of each book of the Bible.

Dr. Harvey received his degree from Hyles-Anderson College. He is the author of 100 Bill Harvey Poems, numerous gospel songs, and a Bible-based novel, Little One, Maid of Israel.

Bill Harvey is married to the former Billie Jean Robertson. They make their home in Cedar Hill, Texas. 
Payment & Security
Your payment information is processed securely. We do not store credit card details nor have access to your credit card information.