Roll over image to zoom in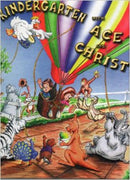 Description
The Preschool Instructional Manual comes in four volumes. Volume I covers weeks 1-9, Volume II covers weeks 10-18, Volume III covers weeks 19-27, and Volume IV covers weeks 28-36.
In Volume III, weeks 19-27, the third quarter continues with learning and enjoying nine more animal letter sounds and stories, increase in number concepts, study of body senses, health and hygiene, and safety rules. 
Payment & Security
Your payment information is processed securely. We do not store credit card details nor have access to your credit card information.