Roll over image to zoom in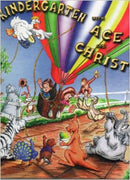 Description
The Preschool Instructional Manual comes in four volumes. Volume I covers weeks 1-9, Volume II covers weeks 10-18, Volume III covers weeks 19-27, and Volume IV covers weeks 28-36.
In Volume II, weeks 10-18 continue the pattern set up in earlier weeks. Nine new sound letters are introduced along with their stories. Number concepts are increased, family member roles are studied as well as the role of neighbourhood helpers. Other concepts are taught also.
Payment & Security
Your payment information is processed securely. We do not store credit card details nor have access to your credit card information.