Roll over image to zoom in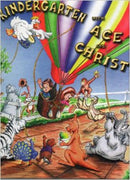 Description
The Preschool Instructional Manual comes in four volumes. Volume I covers weeks 1-9, Volume II covers weeks 10-18, Volume III covers weeks 19-27, and Volume IV covers weeks 28-36.
Volume I of Preschool with Ace and Christi (Reading Readiness K-3, K-4, and/or K-5) programme includes a "General Information Section." This section contains the supervisor training and many helpful hints to utilise more efficiently the kindergarten programme. Some things you will find in the General Information Section are bulletin board ideas, a complete list of materials needed for Volume I, secrets of dynamic storytelling, and a step-by-step breakdown of the instructional manual. There is even a Checkup and Score Key to help you understand the programme in more detail.
In Volume I, weeks 1-9, the supervisor begins training the kindergarten student to enjoy "school" and to develop the "I-can-do-it" attitude. Scripture verses are learned, numbers 1-24 are introduced as well as nine animal letter sounds, Bible stories, colours, physical development, art, and other concepts.
Payment & Security
Your payment information is processed securely. We do not store credit card details nor have access to your credit card information.