Roll over image to zoom in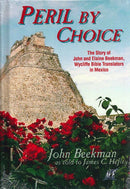 Description
Here is sacrifice, heartbreak, suffering, persecution, and, above all, triumphant love that conquered the powers of darkness. The story speaks for itself because of the tremendous witness of John and Elaine Beekman who made peril their choice!
Despite a bad heart murmur and poor circulation, John pledged he would rather give fewer years of his life to those who had never heard the Gospel than more years to those who had heard. He and Elaine worked for years as translators with the Chol Indians of discomfort, and the loss of their first child.
PERIL BY CHOICE shows the reader how a translator works interpreting and spreading the Gospel message. The author brings the technicalities of linguistics and Bible translation down to earth.
This updated edition has two chapters devoted to John Beekman's work as Wycliffe's chief translation consultant and his open-heart surgery by Dr. Michael DeBaker. With all the obstacles and difficulties they faced, the Beekmans are an exciting and informative witness to readers everywhere--especially those interested in the lives behind the meticulous work of translation and language consultation

Payment & Security
Your payment information is processed securely. We do not store credit card details nor have access to your credit card information.