Roll over image to zoom in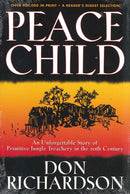 Description
From Cannibals to Christ Followers -- A True Story
In 1962, Don and Carol Richardson risked their lives to share the gospel with the Sawi people of New Guinea. Peace Child tells their unforgettable story of living among these headhunters and cannibals who valued treachery through fattening victims with friendship before the slaughter. God gave Don and Carol the key to the Sawi hearts via a redemptive analogy from their own mythology. The "peace child" became the secret to unlocking a value system that existed through generations over centuries, possibly millenniums, of time. This analogy became a stepping-stone by which the gospel came into the Sawi culture and started both a spiritual and a social revolution from within. With an epilogue updating how the gospel has impacted the Sawi people, this missionary classic will inspire a new generation of readers who need to hear this unforgettable story and the lessons it teaches us about communicating Christ in a meaningful way to those around us.
Don Richardson, author of Secrets of the Koran, Lords of the Earth; Eternity in Their Hearts, has been studying the Muslim world for more than 30 years. He and his wife, Carol, spent 15 years among the Sawi, a Stone Age tribe of Irian Jaya. Don designed an alphabet suited to the Sawi language, authored 19 primers, taught the tribesmen to read in their native tongue and translated the entire New Testament. More than half of the Sawi accepted Jesus Christ as their Lord and Savior. Since 1977, Don has served as ambassador-at-large for World Team, a mission organization. Don holds an honorary doctorate of literature from Biola University in La Mirada, California, is an ordained pastor and speaks at more than 40 church conferences each year.

Payment & Security
Your payment information is processed securely. We do not store credit card details nor have access to your credit card information.