Roll over image to zoom in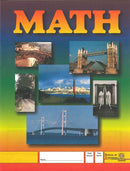 Description
This PACE contains the following: 
Character objective: Thorough
Scripture: Ecclesiastes 9:10
Review number comparison by using place value

Review rounding to the nearest 10 and 100

Solve problems while being timed

Use subtraction to find the missing addend

Learn more about dividing with 2-digit divisors

Use division to find the missing factor

Change mixed numbers to improper fractions

Multiply mixed numbers with whole numbers, mixed numbers, or fractions

Review addition and subtraction of fractions using the LCD

Review geometric figures and terms

Use place value to compare decimals

Review addition, subtraction, and multiplication of decimals

Round decimals to the nearest whole number

Learn about a.m. and p.m.

Solve word problems
Payment & Security
Your payment information is processed securely. We do not store credit card details nor have access to your credit card information.