Roll over image to zoom in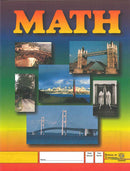 Description
This PACE contains the following: 
Character objective: Attentive
Scripture: Hebrews 2:1
Count and write from 1-100 (also dot-to-dot)
Count and write by 10s to 100, 2s to 20
Work addition facts, sums 2-18, vertically/horizontally
Work subtraction facts, differences 0-9, vertically/horizontally
Work word problems with addition/subtraction facts  Recognise a circle, square, rectangle, triangle and cone
Write from 1-10 and 10-1
Relate numbers to number words for 1-10
Write the number that comes before or after
Recognise symbols +, - and =
This is a level 2 PACE and requires a Score Key. 
Maths PACEs are available for Levels 1 - 12. Search Maths, Algebra, Geometry, Trigonometry.
Payment & Security
Your payment information is processed securely. We do not store credit card details nor have access to your credit card information.