Roll over image to zoom in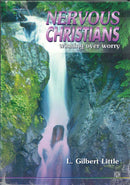 Description
In this day of unsettled world conditions, social tensions, increasing crime, and moral laxity, multitudes are emotionally disturbed. Worry, stress, and anxiety assault us from all sides, and Christians are not immune.
But Christ and His Word offer a solution.Nervous Christians combines the skill of a trained physician with a dedicated knowledge of God's Word and God's love to offer help to troubled believers. Christians can conquer care and worry and find peace of heart and mind.

A careful reading of this book will help you to understand more clearly why so many people--even Christians--become disturbed and confused, and how such difficulties can be cured through Christ.
You can be free from the entanglements of Anxiety!
L. Gilbert Little (M.D., University of Arkansas), a Christian psychiatrist with many years of experience, was a member of the American Medical Association. He was active in the Christian Businessmen's Committee and was a member of the board of directors of Grace Bible Institute, Omaha, Nebraska.
Payment & Security
Your payment information is processed securely. We do not store credit card details nor have access to your credit card information.