Roll over image to zoom in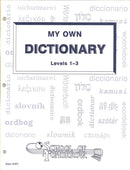 Description
MY OWN DICTIONARY (Levels 1 - 3)
Now that you have finished the English As Your Second Language course, you are ready to proceed with School of Tomorrow courses to strengthen and expand what you have learned.
A few most-used spellings adopted from other languages are given below. You will become more acquainted with these sounds as you continue to read in English.
Sounds           Possible Spellings         Examples
ā                       ey, ei, eigh                       they, beige, neighbor
å                      o, ough                            on, ought
y as î               y                                       gym, symbol, cylinder
f                        gh, ph                               laugh, phone, often

k                       que                                   critique
ū                       ew                                     view
o͞o                     u                                       push, pull
Special Blends
sh
                  ti, ci, su                          crea
ti
on, spe
ci
al,
su
re
ch
                  tu, ci                               pic
tu
re, cons
ci
ence
zh
                  su                                   mea
su
re, trea
su
re
Complete My Own Dictionary as you complete PACEs. Follow these steps:
Find each vocabulary word from the PACE in My Own Dictionary; then locate that some word in a bilingual dictionary.
In the parentheses, write the pronunciation of the English word.
Write the word in your language that means the same
Find that word in a dictionary of your language and write its definition on the lines
Payment & Security
Your payment information is processed securely. We do not store credit card details nor have access to your credit card information.