Roll over image to zoom in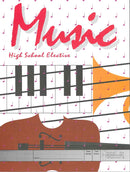 Description
This is the third in a series of 6 PACEs.
This PACE contains the following:
To appreciate the backgrounds of some of our great hymns and hymn writers

To recognize the differences between the three types of clefs

To know the name of each line and space in a staff

To identify and notate a chromatic scale and a major scale

To identify and notate triads in root position

To identify and notate all treble clef and bass clef key signatures

This is a General Level Elective PACE (Level 9) and requires a Score Key.
It can also be used independently by any individual wanting an introduction to music.

For more in this series, search Music.
Payment & Security
Your payment information is processed securely. We do not store credit card details nor have access to your credit card information.