Roll over image to zoom in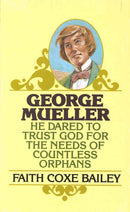 Description
For use with Literature PACE 74 (Basic Literature 7)
George Mueller--rebellious, absorbed in the world and its pleasures.
George Mueller--miraculously transformed by the power of Christ, daring to dream a dream and to trust God to bring it to pass. 
Click here for more literature books.
Payment & Security
Your payment information is processed securely. We do not store credit card details nor have access to your credit card information.