Roll over image to zoom in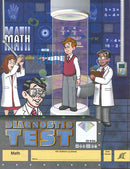 Description
Maths Diagnostic Test 73- 108 (Levels 7 - 9)
Use the Maths Diagnostic Test to determine areas where Maths principles and concepts have not been mastered, allowing for reinforcement of these areas through filling learning gaps. 
An online version is also available at:  https://www.acediagnostictest.com/diagnostictest/
Payment & Security
Your payment information is processed securely. We do not store credit card details nor have access to your credit card information.