Roll over image to zoom in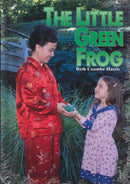 Description
For use with Literature PACE 37-38
What would it be like to leave Mommy and Daddy and go to England? Would Biddy miss China? Would she miss the mission clinic? Did Aunt Hannah really want her to come to England?
All kinds of questions raced through Biddy Forrester's mind as she prepared to leave her mission home in China. She wasn't afraid though. Jesus would be with her! Besides, Amah had given her a small stone frog to remind her of China and the mission work.

Biddy wanted to be a missionary just like Mommy and Daddy and help with the mission work even while she was in England. It wasn't long before God gave her a plan to do just that.

Go with Biddy and see how her adventures with the little green frog help her share the Gospel of Jesus Christ.
Click here for more literature books
Payment & Security
Your payment information is processed securely. We do not store credit card details nor have access to your credit card information.