Roll over image to zoom in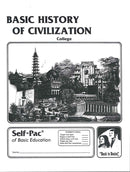 Description
This PACE contains the following:
To state three reasons why Greece, despite her disadvantages, developed a vigorous and splendid

culture

To identify three ideals of early Greek society as described by Homer

To explain how Greek city-states evolved from monarchies into democracies

To summarize the Spartan view of man and the state

To name four major reforms of Solon in Athens

To explain the importance to Greece of the Persian Wars

To list three facts about ancient Greek drama

To contrast the historical methods of Herodotus and Thucydides

To explain how Greek sculpture differed from Egyptian sculpture

To list the three basic orders of Greek architecture

To explain the major interests of the Milesian school of Greek philosophers

To identify Socrates' primary philosophical concern

To discuss Plato's ideal state

To indicate the most important reason why Greek independence did not long survive after the Persian

Wars

To state Alexander the Great's ultimate goal as he conquered the world

To define "Hellenization"

To state the basic reason for the excellence of Greek cultural achievement.

Payment & Security
Your payment information is processed securely. We do not store credit card details nor have access to your credit card information.