Roll over image to zoom in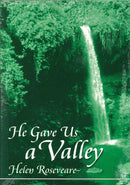 Description
Spine-tingling experiences, loving friends, cruel enemies, pain, imprisonment, weariness, and unending labor were all part of Helen Roseveare's life during her twenty years as a missionary doctor. Leaving home and family, she faced continuous danger and near-death experiences as she served God in the Congo. Through it all, He never failed her. Though she suffered hardships, torture, rape, and captivity, she did not fail Him.
Helen's story is one of faith and miracles, sadness and joy. She assesses her life with relentless honesty and at last discovers the answer to her often-repeated question, "Was it all worthwhile?"
Payment & Security
Your payment information is processed securely. We do not store credit card details nor have access to your credit card information.