Roll over image to zoom in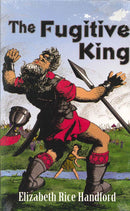 Description
For use with Literature PACE 61-62
Could anything be so fearful as coming to grips with a fierce lion; or a hungry, raging bear; or a boastful, profane, bragging and blasphemous Philistine giant? But these were the chilling experiences to mold David into the man who would later become king of Israel.

Relive these experiences with him, and allow God to mold you into the person that He wants you to be. This book will help you learn how to fight and overcome the enemies of your own soul.

Elizabeth Rice Handford, who is the daughter of Dr. and Mrs. John R. Rice, has won a place in the hearts of thousands of children across America with her exciting children's novels: The Exiled Prince, Flight Into Terror, Those Kids in Proverbsville and The Fugitive King.
Click here for more literature books
Payment & Security
Your payment information is processed securely. We do not store credit card details nor have access to your credit card information.