Roll over image to zoom in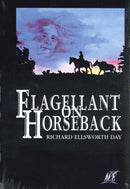 Description
"Yes it pleased the Lord to bruise him." Few people would take this excerpt from Isaiah 53 and apply it to their life with the same vigor as Missionary David Brainerd. The life of David Brainerd, however, can hardly be classified with any majority group--for his is a class of its own.
Sickness, discouragement, and failure meant nothing to David. His only joy was to pour out his very life for the service of God and the furtherance of the Gospel. Though his tanacity and dedication seemed extreme to some, Indians from three different New England tribes were won to Christ. Beyond that, David Brainerd's determination and perseverance has encouraged and challenged thousands to mission work on other foreign fields.
Flagellant on Horseback is a well-documented account of the lives of David Brainerd and his colleagues. Journey with Richard E. Day as he uncovers fascinating facts, draws mental maps, and describes the spiritual passion that drove a promising theologian to give up a life of ease and self-indulgence for one of self-sacrifice. This book will challenge you to consider what is really important in this world - and in the one to come.

Payment & Security
Your payment information is processed securely. We do not store credit card details nor have access to your credit card information.