Roll over image to zoom in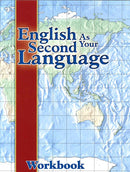 Description
English As your Second Language with 10 DVDs and One Workbook
Each DVD contains 6-8 lessons with about 2 1/2 hours of auditory and visual instruction. The total course includes 64 lessons and introduces the standard 1,200-word universal vocabulary. Each lesson has about 25 minutes of presentation. My Own Dictionary is recommended for the course.
Equipment needed: A TV Monitor and a DVD player/ laptop with disc drive
Instructional Requirements:
Individually: 3 hours per day for 10 weeks or 1 hour per day for 9 months
In Classroom: 45-50 minutes per day, 5 days per week, for one school year. Having teacher who speaks English well is helpful but is not necessary if the instructions are followed carefully.
Students can be successful because:
The course does not begin on an intellectual level but uses a simple, elementary approach so all ages can master the material. It requires the student to think in English and give a total physical response
Success depends upon:
Carefully following the video teacher's instructions, repeating all instructions aloud and participating orally, and relation mental concepts and actions to English words.
Payment & Security
Your payment information is processed securely. We do not store credit card details nor have access to your credit card information.