Roll over image to zoom in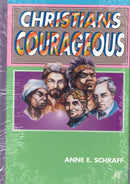 Description
For use with Literature PACE 32-36
Have you ever wanted to go back in time and see how some other Christians lived?
Christians Courageous tells you about the lives of five heroic Christians: Jedediah Smith, Elijah Lovejoy, Sojourner Truth, Joseph Brant Thayendanegea, and Clara Barton.
These Christians' lives were filled with action and excitement. They were brave and courageous...and they each did something special for God.

Read Christians Courageous and find our what made each one heroic in God's eyes.
Click here for more literature books.
Payment & Security
Your payment information is processed securely. We do not store credit card details nor have access to your credit card information.