Roll over image to zoom in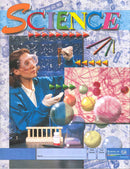 Description
This PACE contains the following:
Scripture: Joshua 24:15
Know the steps of the scientific method
Be able to relate the scientific method to everyday experience
Understand standards of measurement, scientific notation, and significant figures
Be able to work problems involving measurements
Have an overview of the history of chemistry
This is an Advanced Level PACE (Level 11/12) and requires a Score Key.
It is the first in a series of 12 PACEs that comprise Chemistry (121-132).
For more in this series, search Chemistry.
Payment & Security
Your payment information is processed securely. We do not store credit card details nor have access to your credit card information.