Roll over image to zoom in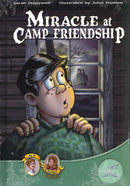 Description
For use with Literature PACE 55-56
Welcome to Camp Friendship
A spirit of excitement is in the air as Pudge, Ace, Christi, and their friends begin an adventure-filled weekend retreat at Camp Friendship. There are surprises right from the start as "the resort" turns out to be a few things more and less than they imagined.
When everyone chooses a buddy, Pudge is more surprised than anyone. Then they check in at the lodges, and the real fun begins. There is never a dull moment, and one adventure leads to another. Night time brings its own unexpected thrills, but unbeknown to the campers, God is using all this to bring about a special miracle.
The real challenge is a test of the heart. Can faith get you through scary situations? Just how far will a friend go to help? How does God work in our lives? Pudge and his friends find out. You will want to find out too!
Click here for more literature books
Payment & Security
Your payment information is processed securely. We do not store credit card details nor have access to your credit card information.