Roll over image to zoom in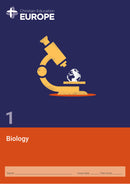 Description
A complementary Biology course to prepare students for AS Level Biology.
The Chemistry of Life
Contents:
Molecules for life
Organic molecules (basic structure of proteins, carbohydrates, lipids, nucleic acids and vitamins)
Inorganic compounds (water, minerals, fertilizers)
Molecular make-up (microscopy)
Cell structure & function: role of organelles
This item includes both PACE and Activity PAC. 
Payment & Security
Your payment information is processed securely. We do not store credit card details nor have access to your credit card information.