Roll over image to zoom in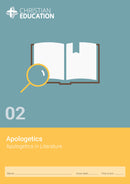 Description
This workbook requires a study of the works of either CS Lewis or Patricia St. John
(*This workbook is a revised version of the previous Apologetics 102.)
Required Book/s: 
Narnia Series by C.S Lewis and/or novels by Patricia St. John
By the end of this workbook you will be able to:
Understand that literature can be used to teach people about God

Discover how this has been attempted by a well-known children's author (C.S. Lewis or Patricia St. John)

Consider to what extent the author was successful

Consider how to approach story-writing with similar intentions

Write an essay critiquing the author's handling of the gospel in a children's story

This PACE is an ICCE requirement and requires a Score Key.
Payment & Security
Your payment information is processed securely. We do not store credit card details nor have access to your credit card information.