Roll over image to zoom in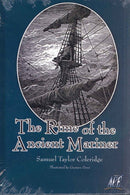 Description
For use with English PACE 140.
"Water, water, everywhere,
And all the boards did shrink;
Water, water, everywhere,
Nor any drop to drink."
Who hasn't heard these classic lines from "The Rime of the Ancient Mariner?" They sing on the tongue and linger in the memory--a perfect example of the genius of the highly imaginative Romantic writer, Samuel Taylor Coleridge.
"The Rime of the Ancient Mariner" with its metrical flow has the charm of an old English ballad. It was originally published in Lyrical Ballads in 1978 along with poems by Williams Wordsworth. Coleridge's aim in the poem seems to have been to make the supernatural seem natural. He accomplished this is simple words and through a variety of literary techniques. The poet appeals to the senses by portraying an old mariner who, with engaging passion and vivid description, tells his miraculous tale.
Many interpretations have been placed on the meaning and purpose of the "Rime," and this may contribute to why the poem has remained popular through the centuries. "The Rime of the Ancient Mariner" is Coleridge at his best, and included in this edition are the masterful illustrations of the nineteenth century artist Gustave Dore.
Payment & Security
Your payment information is processed securely. We do not store credit card details nor have access to your credit card information.