Roll over image to zoom in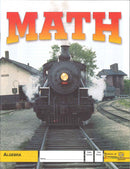 Description
This PACE contains the following:
Character objective: Consistent
Scripture: I Corinthians 15:58
Definitions of algebra, signs of operation, algebraic expressions

Exponents, radical signs, powers and roots

Order of operations for combining terms

Positive and negative numbers
Adding, subtracting, multiplying, dividing
Writing verbal phrases using algebraic symbols
This is a General Level PACE (Level 9) and requires a Score Key.

It is the first in a series of 12 PACEs that comprise Algebra I (1097-1108).

For more in this series, search Algebra.
Payment & Security
Your payment information is processed securely. We do not store credit card details nor have access to your credit card information.