Roll over image to zoom in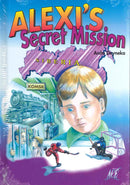 Description
For use with Literature PACE 65-66
Because they were Christians, they were exiles, deported from their home in Leningrad to the cold wasteland of Siberia. But Alexi, his sister Tanya, and their parents soon discovered that even here Christianity survived.
If he renounced his faith, Alexi could be a hero, a star on his school's hockey team. It wasn't fair! Why couldn't he be a Christian AND a hockey star?
Alexi soon discovered a far more thrilling mission. He could become a secret hero, a true Christian soldier, freeing men's minds from the tyranny of atheistic Communism, with the help of the Bible and faith.
Click here for other literature books.
Payment & Security
Your payment information is processed securely. We do not store credit card details nor have access to your credit card information.