Roll over image to zoom in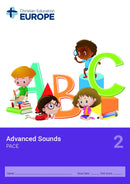 Description
This PACE is designed to be taken individually by a student alongside the group presentation of the Advanced Lessons material from the ABCs with Ace and Christi manual. This PACE does not replace the supervisor's presentation of the material, but supplements and replaces the sections that would be photocopied and completed by the students.
Sounds covered in this PACE:
• ch
• oo (good)
• oo (loon)
Payment & Security
Your payment information is processed securely. We do not store credit card details nor have access to your credit card information.