Roll over image to zoom in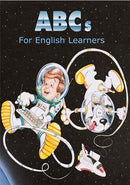 Description
This Kit Includes all PACEs needed for its completion.
The ABCs for English Learners is designed for students aged 5-9. The English vocabulary within the curriculum allows children to verbally communicate their questions, needs and ideas.

This 36 week programme is a combination of Speaking English with Ace and Christi and ABCs with Ace and Christi. By week 19, the students are ready to begin the first level of English PACEs.
The Daily Guide provides detailed instructions for a second language supervisor. The student will gain confidence while having fun developing listening, speaking and comprehension skills.
Includes 4 manuals and other resources which will bring the child from no English to speaking, reading and writing in 36 weeks.
This kit contains:
4 Manuals

Display Cards

Phonetic Cards

ABCs Review Manual

ABCs Diploma

Reading Readiness Test

Post Test

Speaking English CD

ABCs Songs CD

Manual 4 on CD

Speaking English 1-12

Word Building 1-12

Word Building Keys 1-12

Animal Science 1-12

Bible Reading 1 -12

Maths 1

Maths Key 1

English 1

English Key 1

Social Studies 1

Social Studies Key 1

Science 1
Science Key 1 
Payment & Security
Your payment information is processed securely. We do not store credit card details nor have access to your credit card information.