Roll over image to zoom in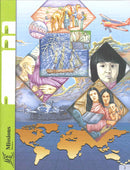 Description
This PACE contains the following:
NOTE: With this PACE, it is suggested that the student view Beyond the Next Mountain, a video of the life of Rochunga Pudaite
Beyond the Next Mountain by Mawii Pudaite – the story of Rochunga Pudaite, native of India, who translated the Bible into the Hmar language

To identify the location of the Hmar tribe on a map

To discuss how the Hmar tribe became a Christian tribe

To describe how Me. Pudaite's parents influenced his life

To see how God accomplished His will through Rochunga Pudaite

To explain the process of translating the Bible for the Hmar tribe

To describe the vision of Bibles for the World
To write an essay or complete a project
Resource required (PACES 1-6):
Payment & Security
Your payment information is processed securely. We do not store credit card details nor have access to your credit card information.