Roll over image to zoom in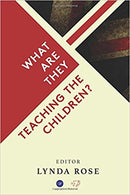 Description
The authors of this wide-ranging book, experts in their fields, examine the history, philosophy, law and current practice of education in the light of recent changes in culture and society. In particular, they expose the way in which state education has become a vehicle for promoting secular and liberal beliefs about religion, morality and the family, overriding the wishes of parents.

Contributors:
Edward P. Ademus, Anthony Busk, June Cash, The Baroness Cox, Brian Hadley, Robert S. Harris, Edmund Matyjaszek, Dr Alistair Noble, Philip Quenby, Rev Lynda Rose, Dr Christopher Shell

Should education become a vehicle for ideologies, however controversial? This book puts a much-needed searchlight on educational trends that seem to be part of a wider attempt to remove Christian influence from public life. - Roger Trigg, Emeritus Professor of Philosophy,University of Warwick

A must read for anyone concerned about the direction of education! It raises significant questions about what is happening in schools, which no one who cares about the future of the young, and therefore of the nation, should ignore. - Patricia Morgan, Author and Research Sociologist
Payment & Security
Your payment information is processed securely. We do not store credit card details nor have access to your credit card information.