Roll over image to zoom in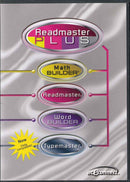 Description
Readmaster Plus license code - this is a license only, no disc is provided.
To be used for reactivation after expiry of your original license or if Readmaster plus is downloaded online. See the Readmaster Guide for details.
Readmaster Plus is a software suite containing four programs:
Readmaster®, Typemaster®, Word Builder, and Math Builder®.

These learning enhancement programs are designed to increase a student's proficiency in reading and comprehension, typing, spelling, and basic arithmetic. Readmaster Plus is licensed per computer on a yearly basis.
Four distinct software programs included on one CD! 
Rewards students with special activities included on the CD

Prints out a merit certificate to be used with your school merit system

Prints student history reports for all programs to track student use and progress

Personalizes all of the programs to optimize learning for individual students

Provides a user-friendly environment created by similar style, appearance, and functionality of each program within the suite
System Requirements:
Qualified Microsoft Windows Operating Systems:
Windows® 2000 (with Service Pack 2)
Windows® XP
Windows Vista®
Windows 7
32 MB RAM
100 MB or more of free hard disk space

Payment & Security
Your payment information is processed securely. We do not store credit card details nor have access to your credit card information.